1. We recommend that you should go with at least a 20-mil finish. The durability of luxury vinyl flooring is directly related to the amount of wear layer shown as mil. The more mils the better the scratch resistance and wear. Box stores may have great names for their luxury vinyl (life proof) but they hide the fact that their wear layer is usually only 6-mil.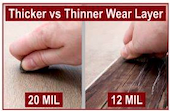 2. For Superior Dent Resistance choose the stone-based SPC instead of the much softer wood-based WPC cores. It gives you the same feeling underfoot but SPC offers you up to 10 times more impact resistance. That is why we only offer superior SPC cores.

3. Choose a luxury vinyl with a minimum thickness of 4.5mm. Thicker products have a stronger locking system. Thinner product's locking system fails more easily. Thinner products also show more imperfections on the floor below and sound cheaper.
4. Choose a floating or locking system luxury vinyl instead of a glue down. Glue-down luxury vinyl is closer to the concrete and more easily shows imperfections from below. Glue-down floors are actually sucked down to the imperfections in your concrete and settle and show even more as time goes by. Because glue down luxury vinyl joints is not locked together they more easily separate and fail when moisture enters the joint. Your best long-term choice for luxury vinyl is one that floats with a locking system.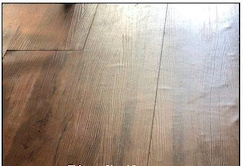 5. Luxury vinyl must always have a cushion to act as a sound barrier and to insulate your floor. It can be attached or loose lay. It is important not to use too thick of a cushion. This will cause too much movement on the floor and the locking system could fail. 
6. Make sure that you allow for expansion and construction. SPC does not expand. However, the concrete or wood below your luxury vinyl can expand or contract up to ½" on 50 feet. When you cut the floor tight to the walls and do not leave proper expansion space your locking system may come apart and fail. 
7. Don't sign an Open Order. Knowing what you will pay prior to the installation starting is superior to someone else deciding what you will pay after it started. People under the pressure of having their home being torn up will be more willing to agree to large additional charges. Signing an order with the possibility of the price changing once the installation has begun is like signing a blank check for a stranger to fill in at a later date.
Demand a Closed Order – an order that cannot change once the job begins.
8. Don't accept an Inferior Installation Warranty. Installation warranties that cover ONLY the initial labor can cost you 80% of your original investment if there is a problem. Demand a warranty that covers both the installation and the product needed to fix installation-related problems.
9. Don't pay extra for Float or Leveler to reduce highs and lows on your floor once the job begins. It is part of a normal installation. It is used on 95% of wood, luxury vinyl, and laminate installations and should be part of the original agreed-upon price. Many stores, including the box stores, add on an additional cost of around $1.75 per square foot after the job begins. This is added on if there is a change of only ¼" in the floor height. The Angie's List review to the right shows a store that charged $2,500 extra or $6.66 extra per square foot on a 375-sf installation after the job began. It was hidden in the sales process by talking about a price per bag. For most stores, It isn't how much float you need to do the job correctly but rather how much they need to make up their desired profits. Demand a price that includes the Float or Leveler and does not change once the job begins.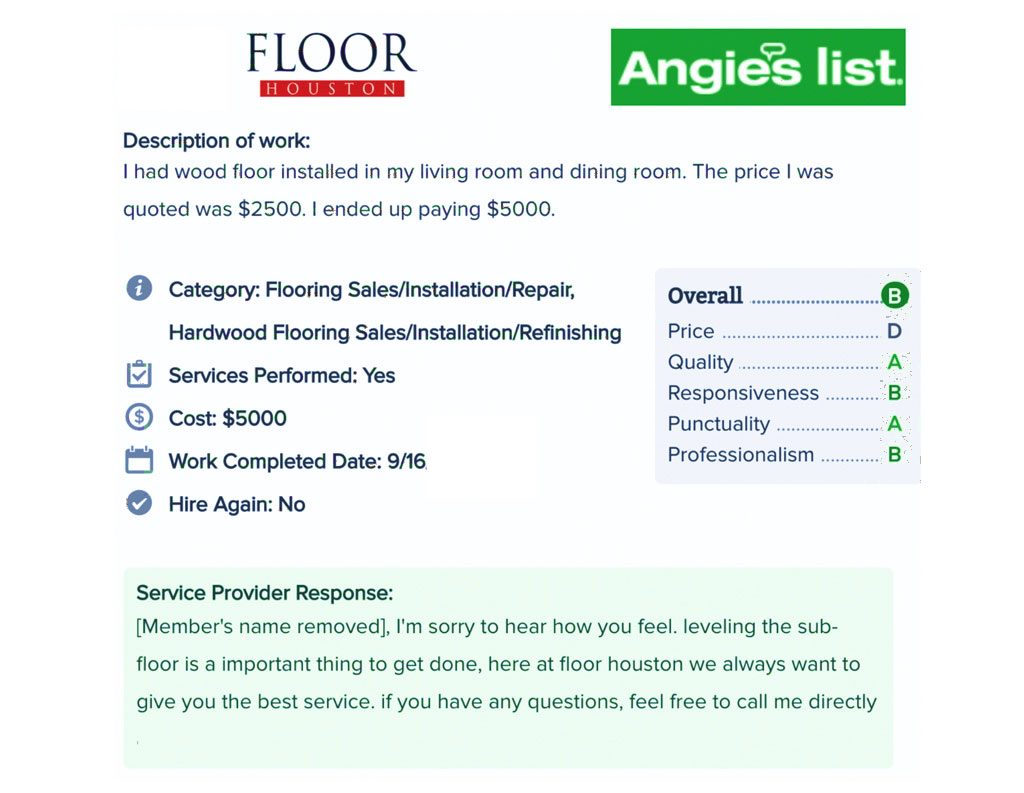 10. Don't accept a Short-Term Installation Warranty. Improper installation issues will show up during the seasonal changes of heat and humidity. It can take up to 2 years or longer to expose installation shortcomings. Short-Term Installation Warranties can expose you to unneeded financial risks. The length of a company's installation warranty reflects their confidence of not having to pay for installation problems in the future. Their confidence or lack thereof is created by the quality of the products and methods used in the installation.